Alternate Endings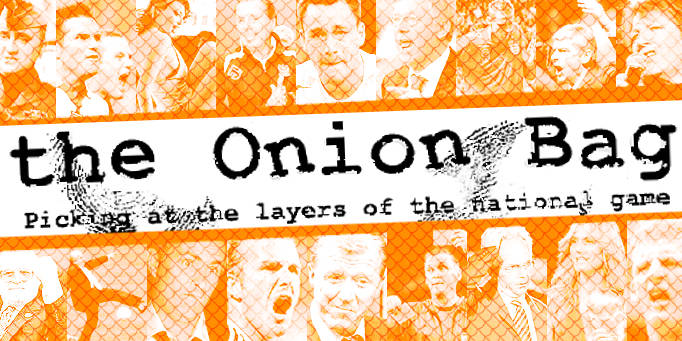 What if England and Scotland had made it to Euro 2008
Today would have been a day of national mourning - the day shop owners sweep up the broken windows, BMW owners fill in their vandalism claim forms and A&E departments took a rest after a 36-hour shift. For today would have been the hangover for England's inevitable Quarter final exit from Euro 2008. Allow the Onion Bag to take you on a journey to this point...
17 October 07
- Scotland and England get through tricky away visits to Georgia and Russia respectively - both teams confirm qualification in their final group games. Sales of official FA umbrellas soar.
21 May 08
- The Onion Bag launches its Euro 2008 pull-out, Lucy Pinder and Lorraine Kelly represent the home nations.
23 May 08
- John Terry flown immediately to FA's new psychological rehabilitation centre after missing crucial spot kick in Champions League final. Media maintain constant vigil at the gates.
25 May 08
- The official England song
Buy the shirt
by Girls Aloud and The Streets reaches number one in the charts on ringtone downloads alone; seven non-authorised England songs are also in the top ten. Lulu and The Proclaimers'
Oh no, please no, not again
charts at 26.
28 May 08
- Massive increase in the demand for polyester sees oil prices hit record levels, no one seems to mind.
7 June 08
- Tournament excitement brings nation to a halt, 18 million watch opening ceremony. Pre-kick off news that Cristiano Ronaldo has penned a new four year deal with Manchester United goes largely unreported.
9 June 08: Scotland v Romania
- Drawn in the same group as the Dutch and the Italians, Scotland need all they can from this opening fixture. They lose 3-0.
14 June 08: England v Greece
- Grinding out their second 0-0 of the tournament, McClaren's men remain bullish after what is described as the most tedious match in history. 29 million watch.
17 June 08: Scotland v Italy
- A wonder-strike from James McFadden sees Scotland cause one of the upsets of the tournament by beating much fancied Italy. Unfortunately, news from Berne confirms the Scots are denied a quarter final place on qualification co-efficents.
21 June 08: England v Netherlands
- Memories of Stuart Pearce in Euro 96 are evoked as John Terry bravely steps up to take the final crucial spot kick to see England through to the semi-finals...