Mot-out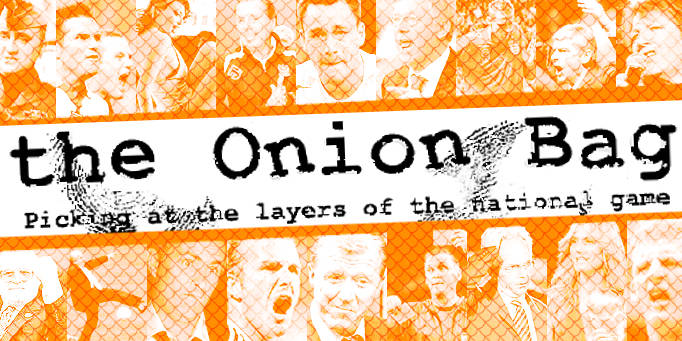 Commentator crash shuts down semi
The Onion Bag can reveal that a black-out by John Motson during the German v Turkey semi final caused the world to
lose TV coverage
of some of the game.
Veteran commentator Motson suffered a critical short circuit during the match in Basel. The resultant feedback shot through his FX mic cable, straight through the stadium and all the way to the UEFA Media Center in Vienna. With a loud bang it knocked out the the ZX Spectrum computer that was running the transmission suite.
Iron Man Iron Man
During the black-out, the worldwide audience missed a goal from Miro Klose. All over the planet, desperate broadcasters had to rely on alternative means of conveying the action. In Hong Kong, they called a fan on his mobile who was at the ground. In Tanzania, they sent a cameraman with an ultra-zoom lens up to the top of Mount Kilimanjaro. UK audiences were hit the hardest when BBC TV switched to the Radio Five Live commentary. A number of people had to be hosed down by medics due to over-exposure to Alan Green.
Ur nur!
Experts are at a loss to explain how such a reliable commentator could have winked out the way Motson did. "I had no idea what was to come" said Motson's co-commentator Mark Lawrenson. "There I was, finding new ways to belittle the Germans when 'Motty' suddenly went quiet. I looked around and he was frozen in mid-gape about to say 'and there's
another
Premier League player making a contribution to this match' but nothing came out."
"'Say something Motty, say something.'
I said. But he couldn't"
Stop Making Sense
Motson came back online for a few minutes but things clearly were not right. "He started making sense for a few minutes so I knew something was wrong" said Lawrenson "It was only a matter of time before he crashed again."
UEFA Lab Coats were on hand to repair the much loved commentator so he could complete his task. Motson did return for the final but at reduced capacity and he is
not expected to be used again
. A
diesel powered generator
will replace him.