Seven Caps For Seven Brothers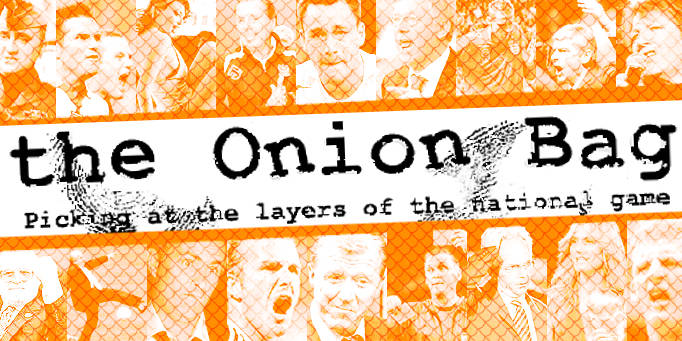 England relief as FIFA rule Rooney wedding was a full international
After a week of worry for England's blushing debutantes, FIFA last night announced that Wayne Rooney's wedding to Coleen McLoughlin would be allowed to keep its full international status. There had been fears that the event would be downgraded to a 'B' fixture after Fabio Capello's men all had 7 glasses of Asda Champagne-style Drink at the reception, one more than the pre-approved limit.
Strictly one per customer
"It's a good decision, it's a just decision and it's very competitively priced hooch, this", belched FA communications wallah Adrian Bevington. "I'm especially happy for the players who made their England debut at this wedding. You can see how much it means to them to represent their country at a massive jolly." Joining the new caps in the huddle to catch the bouquet, our intrepid reporter Larry Gak described the general mood as one of "drunken relief cut with a groundswell of disturbing physical violence towards women". One of the debutants, Dean Ashton, completed a fine first week as an international footballer by catching Coleen's tastefully-bundled Asda flowers, following a fumble from David James.
THE sporting event of 2008
Widely-criticised before the kick-off, even the most sceptical football pundits have now admitted the event was a huge success for England and the FA. One told us, "it was a good chance to blood in new players at a friendly wedding before we get down to serious business in South Africa 2010, where there are an awful lot of brothels."
The Onion Bag's society editor, Petrescu Mountfield-Mountfield, called the wedding "an overwhelming success". "From a sartorial, cultural and sporting standpoint, there really was no other place for a self-respecting football fan to be this June than here," she explained from near the cake. "With the right guidance and their natural level of ability, you'll see this squad of players having a lot more summer weddings in the years to come."
Out of touch
The only sour note of the trip was struck by Jermain Defoe, of whom it was hoped the opportunity would help him find his scoring touch at international level, but to no avail. "He's a triffic lad, top geez, diamond, lahverly little player," his club manager Harry Redknapp expounded by the vol-au-vents, "but it's jast wun ov them fings, innit? You carnt explain it. However many goals they get in the Prem, you put sum players in an England shirt and they couldn't even score at a fahkin scahsah's weddin."
+++++ Euro 2008 Latest +++++
Italy 9-9 France.
Match abandoned on 26 minutes after buxom female streaker chased by a tiger during sudden asteroid shower.