Vote Bag Or Everyone Dies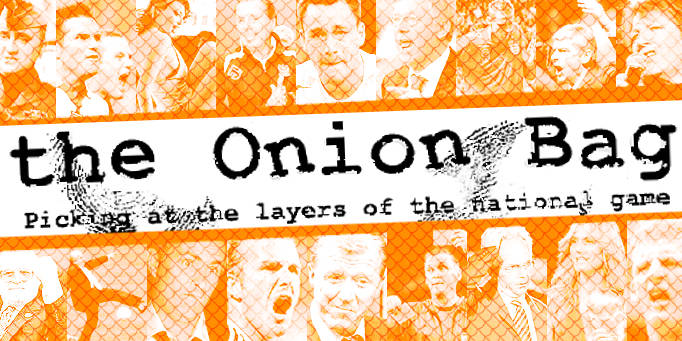 Publisher's ultimatum to terrified public
The Onion Bag's majority owner and publisher Vlad Nutchopov has kidnapped his entire (crack) pot team of writers and will murder them unless they win the
EPL Talk Best EPL Blog Award
.
Nutchopov recently increased his shares to become the majority holder after persuading the Bag's founder, Willhelm van Clenchmonker, that his testicles were better off between his legs rather than stuffed down the throat of his, Clenchmonker's, pet cat.
Click throughs
However, since the Credit Crunch's recent re-brand to Global Recession of Doom, the Russian mobster and noted philanthropist has been anxious to maximise his assets. He hopes that by winning an award, even a thinly veiled marketing ploy like this one, will boost traffic to the site and increase Google Ad sales.
Bag Editor in Chief, Duffman, did explain to his deranged boss that the ad revenue from the Bag was just enough to cover the server costs and not even a Webby Award would increase income to the levels he was hoping for. However, he sooon changed his tune after spending his head down an unflushed toilet just after Johnny Pundit had vacated it.
We've got a CMS and everything
"I am honoured that the bag has been nominated for the
EPL Talk Best EPL Blog Award
" he spluttered to the Onion Bag's intrepid reporter Larry Gak. "Even though I'm not sure what EPL stands for and and we're a website not a blog."
The Bag's sister site
Some People Are On The Pitch
has also been nominated in the same category which has led to concerns that the vote will split, leading the way for inferior blogs to win. SPAOTP's editor Chris O remains unconcerned preferring to concentrate on escaping from the coffin he has been buried alive in.
Impassioned plea
On a serious note, Duffman did hope that loyal Bag readers would take the time to vote. "After six years and nearly 300 issues it would be great to get some recognition. However, at present I am more interested in surviving the experience with my head still attached to my body."
The
voting
is open until the end of May.