Directing Traffic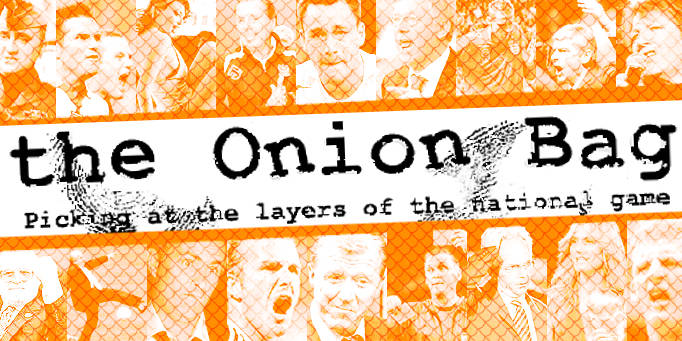 Bag game a front for organised crime
Last night Interpol issued an arrest warrant against top contenders in The Onion Bag's online fantasy game
Fantasy Football Agent
. Shady agents are using the game as a front for money laundering, human trafficking and match fixing.
FFA rules
The game is based on player's public profile. Points are awarded for the amount of publicity a player receives. If a player scores a hat trick on Saturday he gets points for making the back page of the tabloids on Sunday. However, if that player gets into a fight at his local night club that same evening and has his picture taken entering a hotel with a page three model or another player's missus on his arm then he gets points for appearing on the front page.
Titus Groan
The game started out as a bit of fun but was soon hi-jacked by a cartel of real football agents with links to international crime syndicates based in Brazil, Russia and Thailand. Agents use the game as a means of doing dodgy deals with each other in real life. For example, when Agent
Kia
(not his real name) buys Carlos Tevez in the game he is telling Manager
Alex
(probably his real name) that a deal can be done for that player. When Alex buys Titus Bramble he is sending a coded message telling Kia to get f**ked.
Better today
Agents are using unimaginative pseudonyms like
Wardonkey
and
Quizking
(revealing possible links to dodgy night-time phone-in shows) to cover up their true identities. Top player
Backrubslut
is in fact the son of a Russian oil magnate who owns a yacht in the south of France, a chain of luxury golfing resorts and five Brazilian football internationals that he keeps in the back of a 1984 Ford Transit.
Pull the plug
While international police hunt down these desperadoes seeking bribes to turn a blind eye, thoughts have already turned to the game of death at the centre of it all:
Fantasy Football Agent
. The new season starts on August 1st and you too can rub shoulders with the corrupt and dangerous by signing up now at
www.fantasyfootballagent.com
. All it will cost you is your soul.