James Ankaman's Tour De Five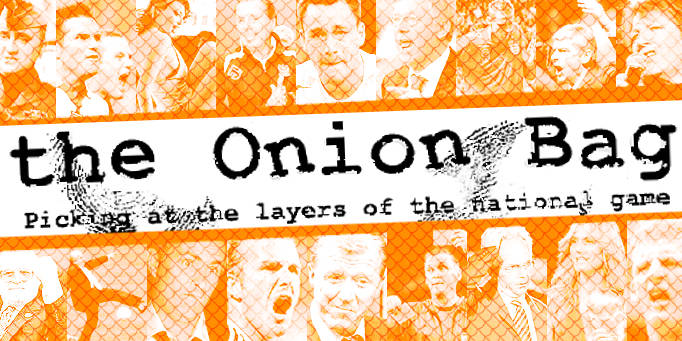 Fading hack enters last chance salon
Biongiorno once again, dear readers. It is I, AC Anksta returning to your screens stepping in for Johnny Pundit who's having trouble with his teeth. And since the Onion Bag's delightful editor Nigel was good enough to give me and Mrs Ankaman dinner at a charming little Trat in Tuscany recently, I was more than happy to fill the breach.
Le Pelaton
So, as I take off my
tennis shoes
and put down my Guardian guide to the Tour de France, I am looking forward with ever increasing anticipation to the next season of Calcio with some very exciting news. That being the possibility that I may be returning to national TV, and I'm not talking about
Eurosport
listeners.
Closer each day
Sharp minded subscribers will remember a story, breaking last month that Serie A (or Seree Ay as it's known in Blighty) will be
returning to terrestrial TV
thanks to the good people of
Channel 5
(or just plain Five as they like to be called). Yes indeed the fifth channel is looking to fit some top notch calcio around those repeats of
CSI
,
Home And Away
and
House
. Mind you, that Jennifer Morrison can repeat on me anytime, am I right viewers?
The Bold and the Beautiful
Anyhoo, since the story broke, Channel 5 have been fending off literally tens of requests from Italian football lovers pleading for the return of yours truly to their screens as the "Anchorman" (have you seen what I've done there?) for their coverage next season. Now while I can't confirm that any talks between myself and the people who brought you
Sunset Beach
and
Touch the Truck
have taken place (largely because they haven't) I can confirm that my competition for the gig is out of the picture.
90 minutes of sheer hell
Former England Legend John Barnes sits in the gantry at Ewood Park next to John Helm for dreary UEFA Cup Thursdays, so that's him done for. Which just leaves the hated Colin Murray who is the current incumbent. Well, I have it on good authority that he may have a few problems fulfilling his commitments next season. After all dear readers, it's a long way down to the bottom of the Thames when you are wearing concrete galoshes. Crikey!
Johnny Pundit is away