Goodison Checks Out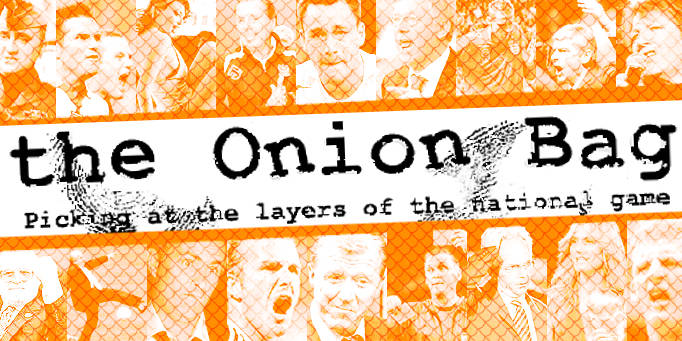 Everton fans fear supermarket's investment
Everton's proposed new stadium has already been criticised by fans who fear it is little more than a giant superstore for investors Tesco.
Recently published images
of the proposed 50,000 seater stadum were, the Onion Bag can exclusively reveal, doctored by the club to disguise Tesco's considerable financial contribution.
Every Little Helps
In return for stumping up £50 million quid, Tesco get to open a big shop alongside the new ground. What the images released by the club show, however, are a stadium standing alone. But the original images show a completely different picture, with the stadium suspiciously resembling a Tesco superstore.
Larry Gak, The Onion Bag's intrepid reporter, doorstepped Everton Chief Executive Keith Wyness with the picture, who said "Did you knock that up in Photoshop or what? I know it's the middle of summer, but do you really have nothing better to do than come up with rubbish like this?"
Tesco boss and
lifelong Everton fan
Terry Leahy has defended the pictures. "Ok, so the shop will be a bit bigger than the ground. So what? Just means I can flog more tellys to a load of mongs with no jobs, don't it?"
Rent-a-Gob
But lifelong Evertonian and famed talkSport presenter Mike "The Tube" Parry was incandescent at the news. "It's a national disgrace," he blathered to a handful of cabbies the other morning whilst stuffing more bacon into his gob. "If I wasn't milking it down here in the south, I'd be straight back up north to complain. Maybe."
Soapbox
Les Dyke, chairperson of the Goodison Park Protection Racket, claims Tesco's involvement will lead to long queues at the turnstiles. "Have you been in a Tesco's recently?" he aye-ayed.
"You spend five minutes packing your stuff and the next ten saying 'No, I haven't got a Clubcard,' and 'No, I don't want one,' and 'No, I'm not collecting vouchers for schools,' and 'No, I don't want my bag of frozen peas inside another bag which will then go inside another bag,' and 'No, I don't want any cashback' and 'Yes, can I really fucking pummel your thick head until it looks like a bucket of raspberry jam with this pick-axe handle I bought in your DIY aisle and I thought you were a fucking supermarket not a DIY shop anyway?" he raged breathlessly while being chased by men in white carrying butterfly nets.