The Friday List of Little or No Consequence #98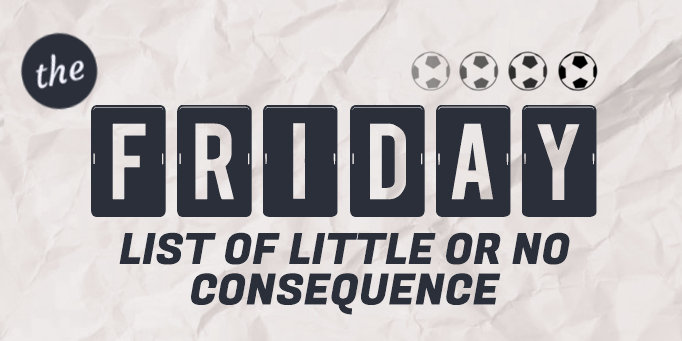 Start as you mean to go on

...


18 Football Players That Scored On Their Debuts *
1. Emmanuel Adebayor (Arsenal)
2. Craig Bellamy (Manchester City)
3. Lee Bowyer (Leeds United)
4. Lee Chapman (Leeds United)
5. Jermaine Defoe (West Ham, Tottenham, Portsmouth, Tottenham (again))
6. Jimmy-Floyd Hasselbaink (Leeds United)
7. Robbie Fowler (Liverpool)
8. Jimmy Greaves (Chelsea, Milan, Tottenham, West Ham and England)
9. Emile Heskey (Aston Villa)
10. Kevin Keegan (Liverpool)
11. Harry Kewell (Galatasaray)
12. Freddie Ljungberg (Arsenal)
13. Mido (Middlesbrough, Wigan Athletic and Egypt)
14. Michael Owen (Liverpool)
15. Robinho (Manchester City)
16. Alan Shearer (England)
17. Ian Wright (Arsenal)
18. Shaun Wright-Philips (Manchester City (2nd time around) and England)
* (not including loan spells or pre-season friendlies)
...and once again we're indebted to our good friend
Simon Harriyott
for coming up with the suggestion for today's 'Friday List' along with some of the names to go on it.
Cheers Simon!
And don't forget - you can send us your ideas for future 'Friday Lists' by dropping us an email to
info [at] spaotp [dot] com
. We'll do our best to publish your list, thus ensuring your name enters the realms of superstardom and A-list celebrityism.