The Friday List of Little or No Consequence #95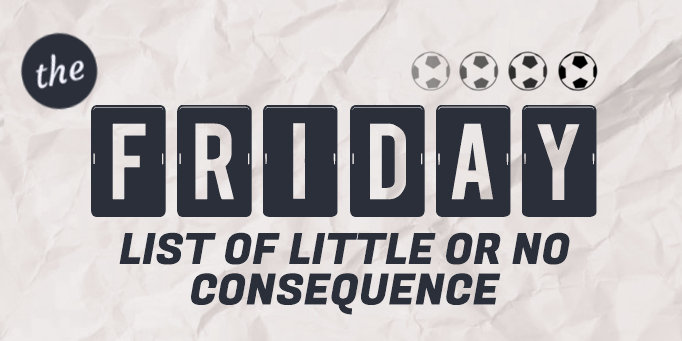 Names and places
22 Football Players Whose Names Feature Towns, Cities, Countries, Etc.
1. Dean Ashton (West Ham)
2. Ryan Babel (Liverpool)
3. Gareth Barry (Aston Villa)
4. Deon Burton (Charlton Athletic)
5. Lewis Buxton (Sheffield Wednesday)
6. Clark Carlisle (Burnley)
7. Michael Carrick (Manchester United)
8. James Chester (Manchester United)
9. Jamie Clapham (Notts County)
10. Jack Cork (Watford)
11. Matt Derbyshire (Blackburn)
12. Ryan France (Hull City)
13. Simon Hackney (Carlisle United)
14. Stephen Ireland (Manchester City)
15. Kevin Kilbane (Wigan)
16. Neil Kilkenny (Leeds United)
17. Lewis Montrose (Wigan)
18. Kris Renton (Norwich City)
19. Roque Santa Cruz (Blackburn)
20. Jason Scotland (Swansea City)
21. Antonio Valencia (Wigan)
22. Dwight Yorke (Sunderland)
And at this point we'd like to wholeheartedly thank

Simon Harriyott

for coming up with the idea for this Friday List along with most of the names on it. If you'd like to suggest a few of your own, feel free to do so by leaving us a comment.
Alternatively, why not send us your ideas for future Friday Lists we could tackle? It's very easy - just drop us an email to
info [at] spaotp [dot] com
and we'll do our best to convert your ideas into reality!