Elton's Beckham Snub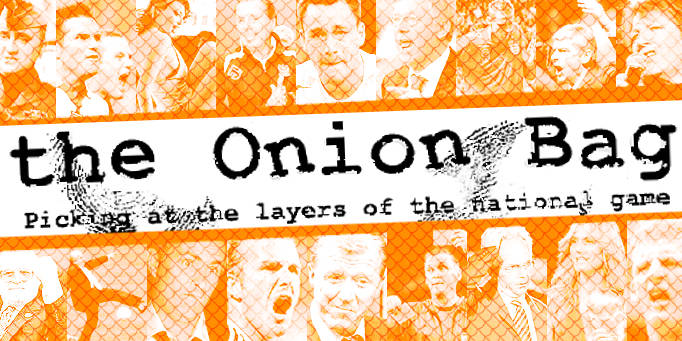 Star shuns World Cup bash in favour of play-off celebrations
Sir Elton John, gay pop singer-songwriter and friend to the rich and famous, sensationally snubbed the glitzy pre-World Cup party thrown by David and Victoria Beckham in favour of celebrating Watford's promotion to the Premiership via the play-offs.
John, who is a major shareholder in the dull little club, was at the Millennium Stadium to see his beloved Watford trounce Leeds 3-0. Unable to pull his pink Rolls-Royce out of a tight slot... he used his £10,000 mobile phone to call Becks and blow him out, preferring to go partying with delirious Hornet fans!
Sorry Seems To Be...
A close friend of the Beckhams told the Onion Bag, "Posh was furious. She couldn't believe he chose football ahead of her and went off in a right strop. And one point, we thought her scrawny little frame would snap in apoplexy, the rancid minx got so huffy."
I'm Still Standing
England captain David Beckham was more understanding. "I understand," he told the Onion Bag's Larry Gak before eating a bowl of ice cream that had an England-themed wafer in the top and being sent to his room by his scrag-end of a wife.
Watford fan and local MP Claire Ward has applauded John's decision to party with fans rather than showbiz superstars. "Why would a man like Elton want to spend time with the likes of Graham Norton, Tom Cruise, and Dale Winton when he could be in the arms of thousands of blokes all obsessed with the same thing?
Song For Guy
One man who
did
make it to the party, however, was Watford boss Aidy Boothroyd. "Bought my ticket on eBay, didn't I?" he growled. "Do whatever I want. Go wherever I want, dun I?" he continued. Boothroyd, who if he doesn't already have a tattoo of a bird on the back of his hand is sure to have one some day, BEAT his way out of Cardiff to ensure he attended the high profile party. "I'm gonna have that Beckham bint," he intoned menancingly before stomping off.