Onion Bag To Launch World Cup Special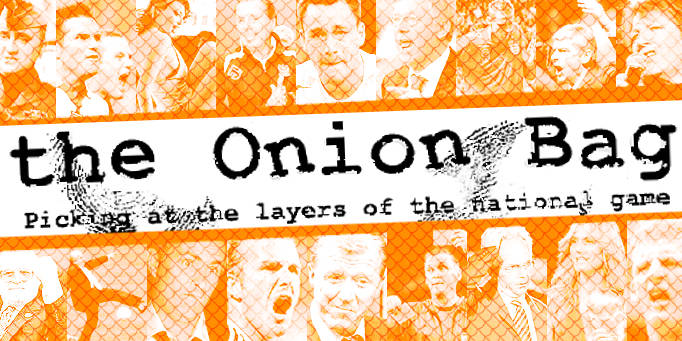 It's for the good of the planet
The world's most popular satirical football Web Site will usher in its fourth year with its very own paper free World Cup Pull Out Special.
The launch comes in the wake of concerns from environmentalists that the combined mass of World Cup Specials published by the World press will be enough to bury the entire surface area of Scotland. "We believe that nearly two thirds, of a South American rainforest may have to be chopped down to provide enough paper for these pull outs" says environmentalist Les Dyke "At a cost that would wipe out the entire England team's gambling debt... almost"
Ripped off
The Onion Bag celebrates third year anniversary this month. The Web Site was set up in May 2003 with the intention of providing its readers with what editor Terry Duffelen describes as "A fusion of football news and razor sharp comedy" and what everyone else describes as a "dodgy knock off of The Onion".
The "Bag" as it is affectionately called by no-one hopes to provide an alternative, upside down, somehow not quite right view of the greatest sporting event in the World. "All the usual features will be there" says Duffelen "Y'know, where the tournament will be held, who's playing, useful stuff like that but who else can boast a line up of pop sensation Bono and TV Legend David Hasselhoff? Well… not us but we've done a fair approximation of them which is more than can be said for anyone else."
Porn tracking
The Onion Bag World Cup Special will feature, a self updating fixture guide which takes the hassle out of filling the numbers in yourself. Also available will be a cracking online Miss World Cup game and World Cup Blogs. All of which is available at no cost, advert free and without downloading any applications or spyware.
If that wasn't enough, The Onion Bag will continue as they have done for the past three years to provide top notch football satire every Monday morning... except for the first year which was a big pile of crap.
The Onion Bag's World Cup Special will be available from May 8th 2006.
Further enquiries email press@the-onion-bag.com