Theo's Dad 'offered Out' By Ian Wright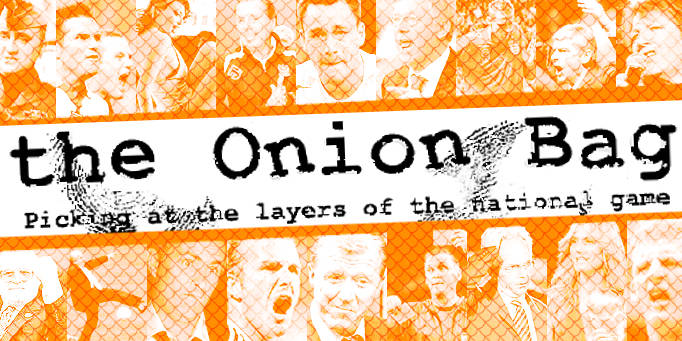 'How many caps did you win for England, eh?'
Tawdry gameshow host and erstwhile England hitman Ian Wright has embarked on a flurry of violence and tearful retribution after his son was left out of Sven Goran Eriksson's World Cup squad.
His latest victim, Don Walcott, said he was physically threatened by the fiery striker at a family barbeque to celebrate his own son Theo's inclusion. "It was about 9.30 last night, but we'd let Theo stay up late as it was a special occasion," Mr. Walcott told The Onion Bag. "Suddenly this madman barged into the garden, nicked my tongs and brandished them in my face shouting obscenities and questioning both my footballing and parenting credentials. I was so upset I dropped my camcorder in the potato salad."
Take that…
This is not the first time the excitable Wrighty has sought vengeance for workshy Chelsea tyro Shaun's England omission. Eriksson himself was the first to feel Wright's wrath — He was challenged to an old-school pistols at dawn type duel, but couldn't make it, so sent Tord Grip instead. Unfortunately for the former Arsenal man, Grip was Gothenburg rifle-range champion from 1963-5 and he easily put Wrighty down with a cautionary leg shot. But even with claret spilling from his punctured thigh, the angry espousal of his underemployed stepson continued unabated until worried bystanders knocked him unconscious and dragged him to a nearby hospital.
…And that
Police were also called last week after a man fitting Wright's description was spotted running away from a McDonalds in Seven Sisters. Tottenham Hotspur winger Aaron Lennon claimed the man had been stalking him for some time before leaping from behind a parked car, sending his Chicken Nuggets flying and applying a particularly nasty Chinese burn.
As you were, Jose
Ironically Chelsea manager Jose Mourinho (ostensibly the man most responsible for little Shaun's frustrating, bench-orientated season) has thus far avoided conflict — largely because he doesn't leave the house unless he's accompanied by Peter Kenyon and a couple of neanderthal bodyguards armed with nunchucks and St. Petersburg accents.
Solidarity for wronged dads
Fears that Wright will use his position as a BBC pundit to further his cause intensified when he was spotted outside Television Centre chatting intimately with the
Fathers for Justice loons who infiltrated la recent Lotto draw.
Bosses have placed him under strict surveillance and have warned that they have a fired-up Eamonn Holmes on their books, and they're not afraid to use him.