Carry On Scoring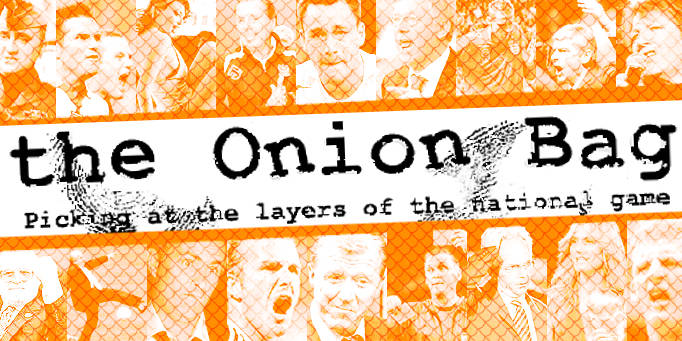 Revealed: the lost carry on football film
The Onion Bag has learned of a missing Carry On film about football that was so scandalous it nearly caused war in the middle east and even worse, upset The Queen .
The movie, aptly titled
Carry On Scoring
, featured all the old favourites such as Kenneth Williams, Bernard Bresslaw, Jim Dale and
Sid James
plus a host of guest star footballers including Charlie George, Bobby Moore and Kevin Keegan. The film, made in 1977, was about an England versus a Rest of the World match at Wembley Stadium to honour The Queen's silver jubilee.
Carry On Tripping
The fiendish Egyptian General Kismah Hass, played by Bernard Bresslaw, forces the England players to drop out by getting them arrested for drunk and disorderly behaviour, slipping them psychedelic drugs and, most controversially, catching one player in a compromising position with none other than Her Majesty the Queen.
Carry On Squeezing
With a depleted squad, England manager Terry Backhandles, played by
Sid James
, recruits a motley crew of has-beens and journeymen footballers captained by Jim Dale, and including Kenneth Williams, Terry Scott, Kenneth Conner and Jack Douglas. Barbara Windsor plays a bra-burning feminist who dresses up as a man so she can get in the team. Charles Hawtry plays the kit man who is forever checking the size of the players balls.
Carry On Liz
The film was scrapped because of a number of controversial scenes like Charlie George getting into a drunken brawl with a pair of Irishmen, Kevin Keegan running naked down Oxford Street whilst high on acid and Bobby Moore getting his leg over The Queen of England, played by Joan Simms.
The censors were appalled. Her Majesty was seriously un-amused and the Egyptian president Anwar Sodoff (surely Sadat) threatened to call off the ongoing peace talks with Israel if the film was ever released. Reluctantly, producer Peter Rogers, locked up all the prints in a wooden box and buried them under a giant tree in Shepperton. The box was discovered last week by builders who were uprooting the tree to make way for a Starbucks.
Carry On Your Honour
The Onion Bag caught up with Carry On legend, Jim Dale for a comment. Unfortunately, as he left his hotel room to meet us, he tripped over a chambermaid's mop and bucket and then fell onto the linen trolley which careered down a flight of stairs, straight through the door of Room 69 passed a woman in bed wearing only a judges wig and straight into a bath containing
Brazilian cleaner and convicted blackmailer Roselane Driza
and a lot of foamy water. Mr Dale was held overnight by the constabulary for his own safety.