English Football Is A Joke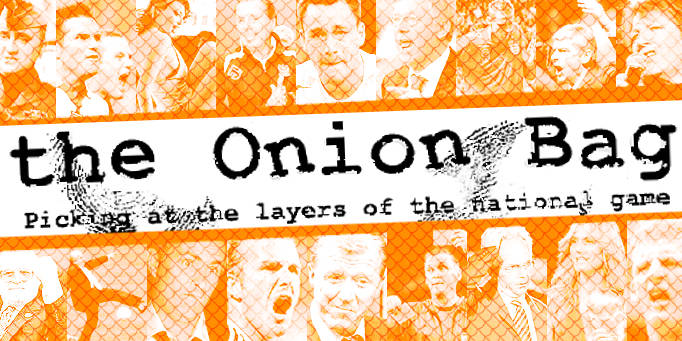 Footy Stars Fight for Sitcom Places
Following the success of recent BBC celebrity-obsessed light entertainment shows such as
Strictly Come Roller-disco
,
That C-list Celebrity Outfit is a Crimewatch
and
Question Time on Ice
, there are plans for Auntie to revive some of the nation's favourite sitcoms, starring English football's favourite faces.
Stars from the nation's top clubs are scrambling to get a part, either because they have a deep-rooted love of vintage british comedy (erm?) or they are simply bored senseless of playing football and have nothing better to do.
D'you Think That's Wise Sir?
Steve "Madame Butterfly" Mclaren and Terry Venables are set to star in a not-that-faithful recreation of Dad's Army.
Mclaren heads up the cast as Captain Mainwaring, doubling up with Venables as Sergeant Wilson. Venables landed the part after being seen at the England training ground mumbling "Would you mind awfully falling into three lovely lines of, erm, 3, 5 and 2?"
Producers are, however, having difficulty casting the other members of everyone's favourite home guard from Walmington-on-Sea.
It was a really quiet news day, so Onion Bag newshound Larry Gak spoke to a BBC insider: "Every time one of the England squad read his lines, Mr Mclaren, sorry Mainwaring, couldn't help but mutter "STUPID BOY!!!", regardless of which part he was auditioning for".
Handy-Hock!
Paul Robinson is currently favourite for the role, while John Terry was seen running around shouting "Don't Panic!" during the Croatia game in a bid for early recognition.
Alan Hansen is pegged to make a cameo as he is the obvious choice for that grumpy scottish undertaker type. "We're Doomed". Quite.
Long-Running Jokes (England that is)
The other shows, and stars, in the pipeline for the first series are:
The Likely Lads (Steven Gerrard and Frank Lampard)
Some (Grand)Mothers do 'Ave 'Em (Wayne Rooney)
Please Sir (can I have my job back?)(some Swedish Coach bloke)
The Good Life (Posh, Becks, Ashley Cole and Cheryl "Bananarama" Cole-Tweedy)*
It is rumoured that Mclaren will also star in a one-off Christmas special of Only Fools and Horses, although there won't be any horses in it.
A planned episode of Terry and June starring the bungling management muppets was scrapped even before it was filmed, because it was realised that the original show was shit to start with.
Felicity Kendal's bum
*The part of Barbara Good's backside will be played by a stunt double.