Fright Hart Lane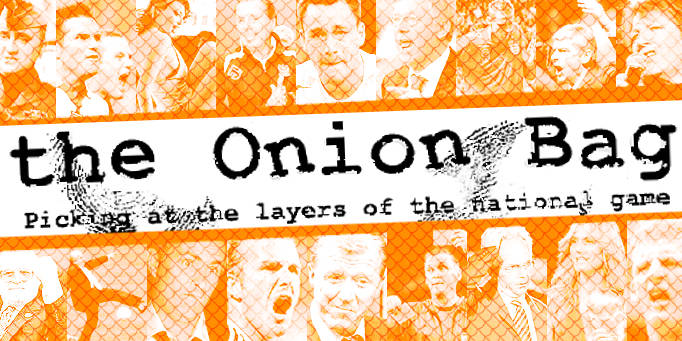 Jol turns team into zombie flesh eaters
Halloween has come early for Tottenham as it emerged yesterday that manager Martin Jol has turned his team into an army of the undead.
Too late to say you're sorry
The dutch coach's players had started the season as if they were held in some kind of trance. However, events took a dramatic turn yesterday when
Jermain Defoe took a bite out of Javier Mascherano
.
It has emerged that Jol employed a local Juju-man to resurrect his players after they died from supposedly eating a dodgy lasagne on the last day of the season. The walking cadavers though have become a remorseless army of evil, hellbent on destroying civilisation.
"Half my team you she were in the dead, for sure", Jol told intrepid Onion Bag reporter Larry Gak. "I have always wanted my playersh to be hungry, now I have that - dey are hungry for de human flesh."
She's not there
There were signs of the unholy epidemic spreading earlier in the day. The Liverpool defence's desperate lunges against Man United were at first thought to be clumsy and half-witted, but in light of the horrific events at Spurs it is now apparent that they were in fact lumbering zombies hungry for fresh brains. "They went for the rest of my team mates but not me" said Rio Ferdinand "I can't understand why?".
Meanwhile, an exclusion zone has been set up around all football stadia for fear that the game's zombification spreads to the general populous. Police are concerned about what appear to be undead creatures with vacant, hungry looks in their eyes, assembling around football grounds periodically. "They emerge from some god forsaken place, make an unearthly groaning noise and then leave mumbling to themselves" said a policeman outside the JJB Stadium. "They haven't tried to eat anyone but they do leave lots of cash lying around."
28 Days Later
Chelsea Goalkeeper Petr Cech awoke from a central London hospital bed following the injury that almost cost him his life and found nothing but desolation and destruction. As he walked the City streets he saw only upturned cars and smashed in property's along with an eery, deathly silence. "Where is everyone?" he shouted. In the distance he saw a lone figure ambling toward him. "At last." he cried out with relief. "Sir, can you help me? The last thing I remember I was in Reading and... no... NO... NOOOOAAAAAAAARRRGGGGHHHH!"