Beckham And The All Stars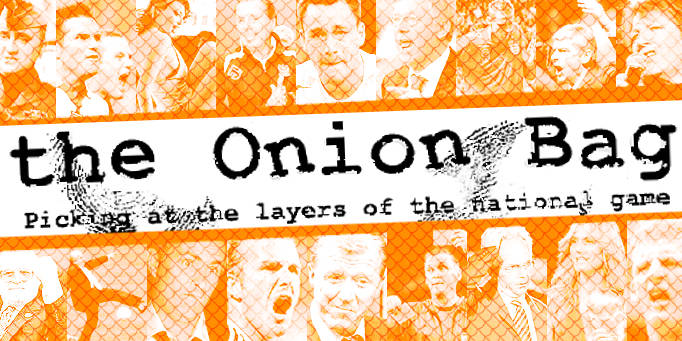 The Greatest Show on Earth
The Onion Bag's Larry Gak goes behind the scenes with David Beckham's All Stars. A pro-celebrity soccer team touring the United States. Our intrepid reporter catches up with the squad as they arrive at their final destination. The Giants Stadium, New York.
It had been years since
people lined the Hudson Bridge in their thousands. New Yorkers fancy themselves as a sophisticated bunch who are not easily impressed by fame and celebrity but rarely had they seen a roadshow like this.
Sweet Georgia Brown
Across the bridge and into Manhattan they came. Twelve luxury trailers forming a convoy of world class talent from the movie, sport and music world.
David Beckham's All Stars
were in town and the whole of New York had turned out to greet them.
The cavalcade completed its journey at the Giants Stadium where the players disembarked, waving to a fanatical crowd the likes of which hadn't been seen in these parts since The Beatles played at Shay Stadium back in the '60's. One by one the players filed into the stadium: Beckham, Schumacher, Jordan, Gallagher, Gazza, Zidane. Surrounded by security guards desperately fighting off adoring fans they disappeared into the stadium to prepare for tonight's performance against a Major League Soccer Select XI.
Electric Ladyland
If the atmosphere was electric outside, it was nothing compared to what was inside. Over 100,000 had paid up to US$200 watch Beckham and his legends strut their stuff against the best of America's domestic league.
In goal, NBA legend Micheal Jordan amazed the crowd with his acrobatics, Tough tackling Michael Schumacher was ruthless in the midfield. Gazza and Zizou's antics astonished everyone but the real star of the show was Becks himself with his consistent accuracy on crosses and free kicks, of which their were no less then twenty each.
The game ended 3-0 to the All Stars but that was immaterial. The crowd were on their feet well before the final whistle.
New York Cosmos
The after party was a who's who of the great and the good. Giuliani, Clinton, Arnie, Jagger plus too many more to mention all partying amongst the vast array of Champagne and chocolates. There was no shortage of girls whose laughter could be heard under tables and inside toilet cubicles.
"I'm just glad its all over" a relieved Becks told me. "The crowd were magnificent. I love America and I hope that after all this, me and the family can move out here permanently."
Becks All Stars v MLS XI
Michael Jordan (GK), David Beckham (c), Michael Schumacher, Liam Gallagher, Jude Law, Paul Gascoigne, Shane Macgowan, Scary Spice, Jean Reno, Zinedine Zidane, Teddy Sheringham
Subs
Scott Carson, Freddy Adu, Theo Wallcott, Micah Richards, Cesc Fabregas
Head Coach:
Sven Goran Eriksonn
Scorers:
Adu 85, Walcott 89 & 90 mins.