Fanbagga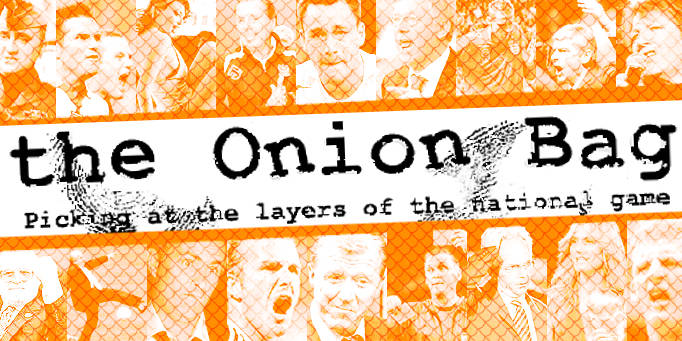 We take a tour of our hilarious new TV series
Studio 6 of the Isleworth Industrial Estate is cleverly made up as a pub. The audience are replete in replica shirts. Behind the bar
Fanbagga
host and stand-up comic Kirwin O'Maiby introduces himself and wonders where his co-host is - the feisty and gorgeous Hamble Liteweight.
Other stouts are available
Suddenly, former kids TV presenter Hamble emerges from behind the bar next to Kirwin. She wipes some thick white liquid away from her upper lip. It looks like she's just fallated Kirwin. Then she produces a pint of Guinness from under the desk. She wasn't sucking him off after all. She was drinking Guinness under the bar. Hilarious.
"Hamble's a great sport," says series producer Ernesto Cockgroupier. "By humiliating herself in front of men she really comes across as one of the lads. We want our target demographic to think they have a chance with her. I think she pulls it off really well."
Old hat
Fanbagga
is a new comedy chat show on satellite channel
Watchanything
. Guests include disgraced pundit Rodney Marsh and failed soap star Barry From Eastenders. Hardly a glittering line-up, but Cockgroupier, who is also the Chief Executive of
Fanbagga's
commercial partner
Betmunch
, is confident that the format will be a winner. "We are following in the footsteps of
Soccer AM
,
Baddiel & Skinner
and
World Cuppa
. People say those programme are spent, old and sh*t respectively but we're not put off.
"
Fanbagga
is edgy, noisy and daring. It's a show by fans, for fans… well I'm not a fan I'm a bookie. I like
Rugby
though. Did you see England on Saturday? Brilliant wasn't it."
Dying on its arse
"Next week's gag will bring the house down," says Cockgroupier "Hamble gets blacked up and looks like she's being taken from behind by Ron Atkinson. But then the camera pans to reveal that actually she's looking for a penny. It's Kirwin who's getting a face full of Ron-love. Classic. That should get people watching... I hope."