Fergie Fury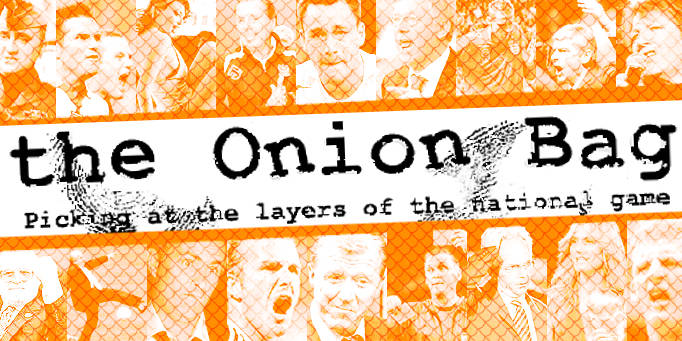 Manchester United moan on and on despite 14-0 victory
Sir Alex Ferguson has angrily hit out after disruptive Arsenal fans spoilt the solemnity of Manchester United's Munich Memorial-Memorial before last Saturday's FA Cup match. Speaking exclusively to The Onion Bag's intrepid reporter Larry Gak, Sir Alex outlined his fury that the minute's silence to commemorate the team's god-awful display in last Sunday's Manchester derby was not immaculately observed.
Bobby Charlton Athletic
"Ah cannae stress this enough," he rasped, "people ootside Manchester have nay idea how our dismal, spineless capitulation to City had on all our fans and the people aroond here. Little kiddies and their da's, all clutching their respectful Munich Commemorative portraits sponsored by AIG, £79.99 from the club shop, in tears. It was terrible".
Sat in his mansion, Ferguson himself wiped away tears before adding, "people who didnae see them can never really understan' how good they were before that day, ye know. Cristiano Ronaldo. Ryan Giggs. Paul Scholes. Ye know, Paul Scholes could have been the captain of England in 2006. No disrespect to David Beckham, but Scholes was that good, it should have been him taking the team home after the quarter finals. They were heading for the league title, until that fateful February afternoon when we played shite and Arsenal waltzed off with it".
Pointless gesture
Spokesmen for Arsenal football club had written letters asking all fans travelling to Old Trafford for the Fourth Round tie to respect Manchester United's pain. "There are football rivalries, but basically we're all human beings and that is bigger than any game. Anyone singing any songs about Manchester United's atrocious, dismal, achingly pathetic defeat to Manchester City or interrupting the minute's silence will receive a life ban from the Emirates Stadium," chairman Peter Hill-Wood warned last week, with his fingers crossed "in solidarity".
No-one cares
Before Saturday evening's big match, Ferguson and his Arsenal counterpart Arsène Wenger laid wreaths in the parts of the penalty area where the previous weekend's tragic goals were scored, before both sides attempted to observe the silence. Suggestions that the occasion would be better commemorated with a minute's applause were dismissed at the eleventh-hour due to fears it might have appeared 'hugely sarcastic'. United - who went on to accidentally win the game and are therefore obligated to continue wasting their time every couple of weeks playing in the tin-pot FA Challenge Cup competition - last night received a full apology from Arsenal, together with the collection of shin bones that had become impaled on William Gallas' studs during the game.