The Friday List of Little or No Consequence #51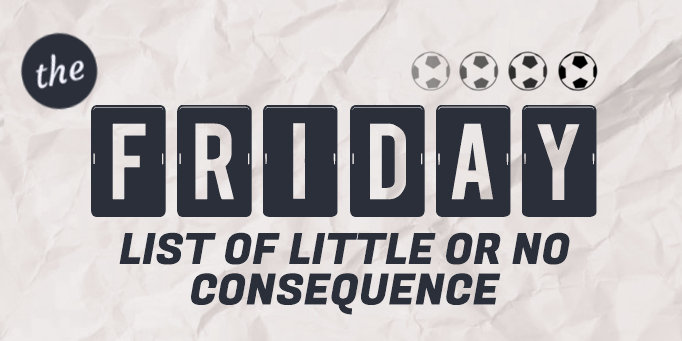 Like Eduardo's injury, only better...
10 Injuries That Players Would Rather Forget
1. Arsenal's Thierry Henry had to receive treatment off the pitch back in 2000 after celebrating a goal against Chelsea at Highbury. He ran to the corner flag and ended up being hit in the face by it. A similar thing once happened to Italy's Marco Tardelli during the 1982 World Cup in Spain.
2. Back in 1975, Manchester United goalkeeper Alex Stepney once broke his jaw after screaming too hard at his team-mates.
3. Manchester City's Shaun Goater injured a foot in the match against Birmingham City in 2003. His team mate Nicolas Anelka had just scored, causing Goater to kick an advertising hoarding out of sheer delight. He injured his foot so much that he had to be substituted.
4. In 2001, Rio Ferdinand strained a tendon in his leg after sitting down in front of his TV at home with his feet up on the coffee table.
5. It's a scary business, relaxing at home. David Seaman, then of Manchester City, once pulled a muscle in his back reaching for his TV's remote control. Strangely, Robbie Keane suffered knee ligament damage back in 1998 while doing the same thing.
6. In 1993 another former goalkeeper, Dave Beasant, needed treatment for foot injury. It was caused when Beasant dropped a jar of salad cream (insert joke here) and instinctively stuck out his foot to break its fall.
7. Moving into 'bathroom territory' now... Spanish goalkeeper Santiago Canizares missed the 2002 World Cup Finals when he dropped a bottle of after shave on his foot resulting in a severed tendon.
8. What the hell - let's just pick on goalkeepers. Richard Wright of Everton once twisted his ankle while warming up for a game against Chelsea. He did it by landing on a sign telling people not to practice there.
9. Arsenal's Steve Morrow of Arsenal broke his collarbone following his side's victory in the 1993 League Cup Final. In the post-match celebrations, he jumped up onto Tony Adams back, slipped off and landed awkwardly on the hallowed Wembley turf.
10. Finally, back in 1964, England player Alan Mullery injured his back while brushing his teeth during a tour of South America. Alf Ramsey
must
have been pleased.