Weekend TV Preview: November 8 - 9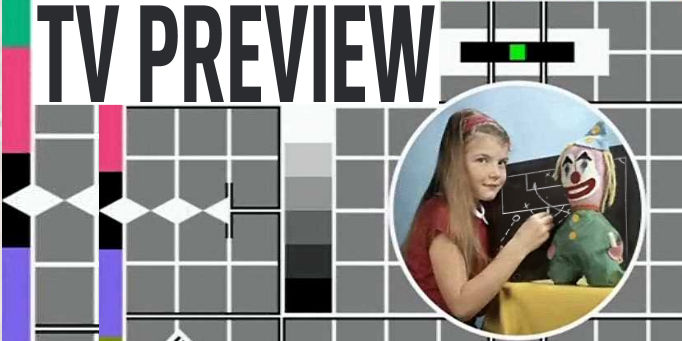 Hello there and first of all do accept our apologies for the late arrival of this Weekend TV Preview. What it lacks in punctuality, we're sure it'll make up for in the sheer depth of quality in the writing. And if it doesn't, there's always
this informative piece of alternative text
for you...
As ever, all times shown are for GMT...
Saturday 8 November
17:20 Southampton v Bristol City, Championship, Sky Sports 1 / HD1
The struggling Saints are currently averaging a goal scored every 90 minutes. Given the fact they scored three against Preston last week, one might expect Bristol City to be in with a chance here - especially since The Robins recently took Southampton's striker Stern John on loan from them. That said, the visiting side were whipped 4-1 at home to Reading last time out, so frankly the jury's out on this one.
17:30 Liverpool v West Bromwich Albion, Premier League, Setanta Sports 1
Will The Reds be affected by Rafa's delay in signing an extension to his contract at Liverpool? Will West Brom be able to take advantage if the minds of Gerrard, Alonso and co. are on other things? No and no. Home win.
19:00 Real Madrid v Malaga, La Liga, Sky Sports Xtra
It's a tale of two setbacks here as Real Madrid (twice losers to Juventus recently) take on Malaga who lost to Barcelona last week, thereby ending a run of four consecutive wins. Real will be without
Robben
, Pepe and Diarra so expect Malaga to get at least a draw, if not... no, we dare not say it...
20:00 Nantes v Toulouse, Ligue 1, Setanta Sports 2
Nantes are without a win in three while Toulouse lost last week. The Canaries are struggling though, so we figure there's nothing Toulouse by betting on the away team (ahem...)
21:00 Barcelona v Valladolid, La Liga, Sky Sports Xtra
Don't be fooled by Barca's midweek Champions League draw against Basel. Many of their regulars were rested and should return to face a Valladolid side that have scored once in four away games this season. Without wishing to influence who you might want to place a bet on, Valladolid have only beaten Barcelona twice in the last eleven years. Home banker.
SPAOTP SPECIAL MENTION...
22:35 FA Cup 1st Round Highlights, ITV1
Yes, a special mention because this season's FA Cup begins in earnest today with the First Round Proper and ITV start their coverage accordingly with this initial bundle of highlights which may just grab your attention before
Match of the Day
kicks in on the other side.
We strongly urge you to check it out as not only will you see stuff like Blyth Spartans v Shrewsbury Town and Sutton United v Notts County but you'll also get to hear ITV's new opening theme tune - a rendition of Abide With Me by The London Community Gospel Choir. It's always been a favourite of ours as it always makes us cry, soppy sods that we are. Tune in and blub out - it's alright by us.
Sunday 9 November
13:30 Ajax v Sparta, Eredivisie, Setanta Sports 2
Jolly old Ajax are on a run of five wins on the trot at the moment and we don't see that coming to an end here. Sparta are hovering dangerously close to the bottom of the table and are likely to be even closer to it by 3.30pm on Sunday.
13:30 Blackburn Rovers v Chelsea, Premier League, Sky Sports 1 / HD1
Hands up who had a sly snigger at Roma's twonking of Chelsea during the week? Thought so. We did too.
John Terry
was as mystified as his coach at what went wrong on Tuesday night, so expect The Blues to be rather more water-tight against Paul Ince's Rovers. Could be a point apiece gained here, especially given Blackburn's recent ability to pick up draws.
14:00 Havant & Waterlooville v Brentford, FA Cup 1st Round, ITV1 / HD
It's ITV's first live FA Cup match on TV since 2001 by our reckoning, and what better way than to focus on last season's giant killers Havant and Waterlooville in the First Round this season. Can they repeat their high-flying feats against a buoyant Brentford of League Two? We asked a selection of Swansea City fans what they thought and the answer we got was a resounding 'Yes.'
14:00 Kilmarnock v Rangers, Scottish Premier League, Setanta Sports 1
Rangers remain tantalisingly close to Celtic at the top of the Prem and you'd think they'll pick up another three points here as their last four meetings against Kilmarnock have ended either 2-0 or 2-1. Having said that, Dundee United nearly turned them over this week so expect a close run thing this time out.
16:00 Schalke v Bayern Munich, Bundesliga, Setanta Sports 2
Fourth place plays third here as a resurgent Bayern claw their way back to the summit. Both teams are on good run of form at the moment but Schalke haven't beaten Bayern since March 2005. You get the impression both coaches will settle for a draw here, albeit for differing reasons.
18:00 Sevilla v Recreativo, La Liga, Sky Sports Interactive / Sky Sports 1 (Second half only)
Without sounding pessimistic, this might be one to miss. Sevilla, despite being fifth in the table, have lost their last four matches, while lowly Recreativo haven't won since Franco was in charge. More or less.
20:00 Getafe v Valencia, La Liga, Sky Sports 1
Bit of an odd one, this. Both teams are very evenly matched, but Getafe aren't too good at home while Valencia are very good away. Ah, what the hell - a draw and let's hear no more about it.
20:00 PSG v Lille, Ligue 1, Setanta Sports 1
Lille are a team in form at the moment. They last lost near the end of September, and that was in the League Cup. For all that plus PSG's recent inconsistency, both matches ended in draws last season and we fear that'll be the case again after this encounter.