Goal, Not Dole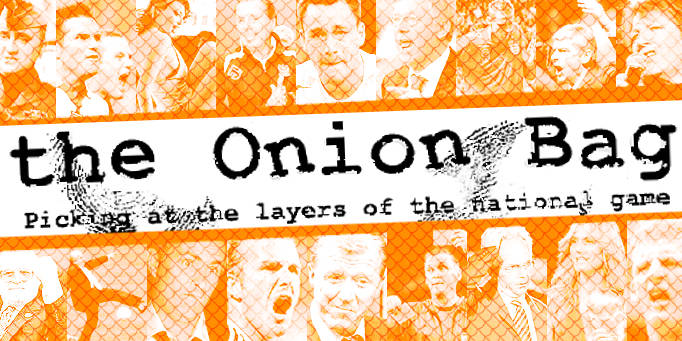 Liverpool to be government-owned by 2010
After weeks of speculation over their future, today in Westminster it was announced that Liverpool Football Club is to be nationalised. The Onion Bag's business affairs editor Wendell Equity attended the press conference with Rick Parry, Tom Hicks, and George Gillett, as well as Prime Minister Gordon Brown and representatives from the city such as Jimmy Tarbuck and 1980s pop sensation Sonia.
Calm down
The Prime Minister outlined the implications of, as well as the timescale for, the nationalisation of the team to the awestruck journalists. The Club, which from season 2011/12 will be officially known as The United Scouse Socialist Liverpool Working Men's XI, will pass into full government control no later than January 1st 2010, giving the club enough time to sign Robbie Fowler in the January transfer window. Before this time, the team will be 'encouraged' to sign as many British players as possible, as well as take on 14,500 civil servants and become carbon neutral by September 2009.
Lenin & McCartney
Plans to offload the bulk of the squad's foreign talent en masse has, however, provoked controversy. Both UEFA and the EU have already stated that such a move would be unlawful under their respective constitutions, whilst the picture was further complicated last night by the revelation that stars such as Andrei Voronin, Daniel Agger and Yossi Benayoun had all applied to join UNISON.
"The benefits of such an arrangement are clear," explained the Prime Minister yesterday. "For too long, this country has suffered as a result of having the means of production of a huge amount of wealth put in private hands". Asked whether or not by 'a huge production of wealth' he meant 'sports entertainment', Brown replied, "Sure, why not?"
Brookside trap
Brown continued: "Most important of all is the sporting aspect. Liverpool Football Club is the most successful team in the history of British football. They have won 18 League Championship titles, as well as 14 domestic cup competitions and 8 European trophies. Such statistics should make every Briton proud of the team. With our help, I'm sure Rafael Benitez and his squad will have no trouble continuing to preserve those numbers".