It's Not Now!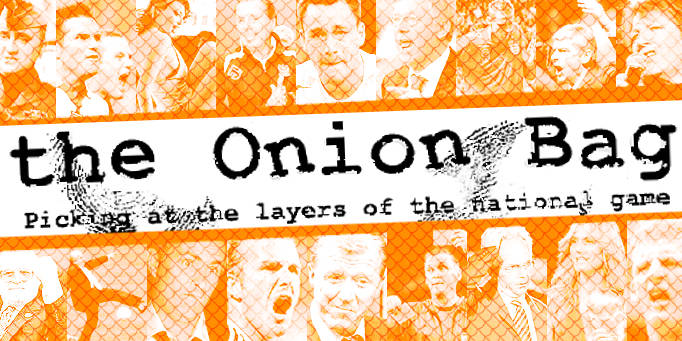 '66 final to be replayed after balloon furore
The football world is in a heightened state of shock and suspense today after FIFA officially announced that the 1966 World Cup Final between England and West Germany is to be replayed at Wembley Stadium this summer. The move comes after Sir Geoff Hurst's shock declaration last week that he "couldn't be 100% sure" whether or not the ball he used to score his controversial second goal was a balloon or not.
Jimmy Grieves
Members of the 100,000 strong crowd that day 42 years ago have come forward to speak exclusively to The Onion Bag about what they saw and heard that day. FIFA delegates are widely expected to conduct similar interviews within the next few weeks. Understandably, the accounts have polarised into two very distinct camps. Heinrich Erdheim-Chester, then a 19-year old student from Munich is not only convinced that Hurst finished a balloon but also believes that it may have been one of his.
The man on the gassy knoll
"I released 99 orange balloons at the beginning of the first period of extra time — red balloons being hard to source at the time," rasped Erdheim-Chester yesterday. "I was stood in the end opposite the goal England were attacking, and two or three of the balloons drifted towards our penalty area. Alan Ball chased it and crossed it over, Hurst hit it like a rocket. The issue of whether or not it crossed the line has always paled into insignificance for me to the issue of Wolfgang Overath having the real ball somewhere near the centre circle".
Two World Wars
Whilst England has been plunged into turmoil, Germany has been rejoicing. West Germany is gearing up for its first international football match since reunification in 1990. To celebrate, the government has rebuilt the Berlin Wall. "Undoing 18 years of democracy and plunging half our people into penury for the purposes of football is a bold step," explained a Foreign Ministry official, "but hell, what do I care, I'm from Hamburg. Go Mannschaft!" Meanwhile, Trabant have marked the milestone by releasing a special "Thirty Years of Hurt" model of their P60 car.
For you, Tommy, the World Cup is over
The match will take place on Saturday 26th July at Wembley, using the same teams as the original contest. Where a player has died in the interim period, they may be replaced by a similar player from the current national team. When asked by our intrepid reporter Larry Gak if Shaun Wright-Phillips would be called up, the FA last night confirmed that they feel it would be best to stick with Alan Ball.