What is the Tactics Truck?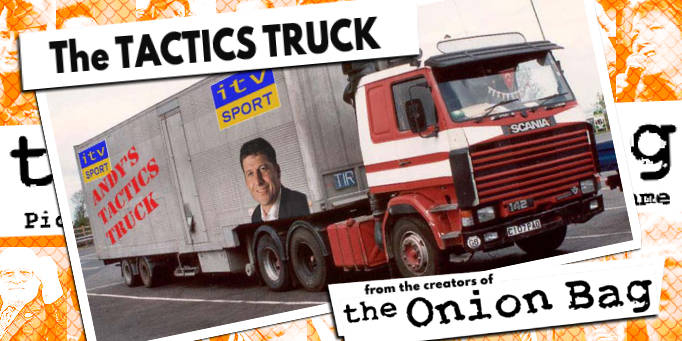 The Tactics Truck is a blog about media coverage of football, in particular on Television in England. It will be written by the same people who do the Onion Bag.

Since the formation of the Premier League in the early '90s, TV has played an increasingly important part in how the game is organised and funded. Indeed broadcaster's influence on the game continues to grow.

For a number of years there has been considerable intervention from TV companies regarding Kick Off times. Recently, we have seen the emergence of "Grand Slam Sunday", where the top teams play each other on the one day for the benefit of the TV audience. Also, football authorities are under increasing pressure to allow TV technology or "video evidence" to be used to help officiate the game at the highest level. For many, this seems a sensible and logical development. Others however, are concerned about the presence of the broadcaster's involvement in the officiating process.

This blog will try to examine the relationship between the game and the TV as the two become more entwined. We will reflect related news as it happens. There will be profiles of the people and broadcasters that fill the football TV landscape. Also, we will look at TV coverage of foreign leagues here in the UK. We will try to examine the nature of the TV audience, how it behaves and what it's expectations are. While we shall we mainly concerned with English broadcasting and English football, we shall try to offer some coverage of Scotland, Wales and Northern Ireland. Occasionally we will drift into other forms of media (radio, online, press) but mostly we will focus on the gogglebox.

The Onion Bag was created to lampoon the English football media. The Tactics Truck (named after Andy Townsend's post match analysis slot in ITV's short lived Saturday evening highlights show The Premiership) is the Bag's political wing. That does not mean we won't have a sense of humour, but we hope to play this one with a straight bat.