Midweek TV Preview: September 29 - October 3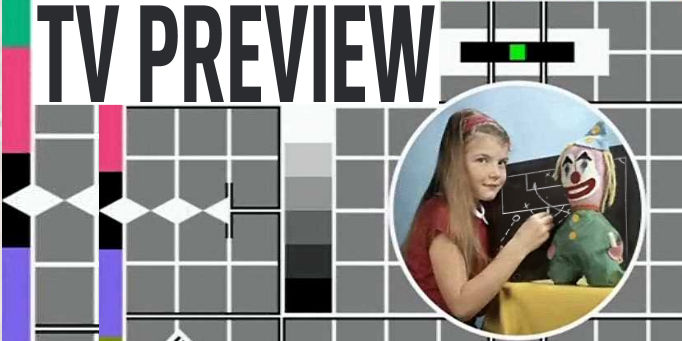 (All times - UK)
Monday 29 September
7.30pm Rushden & Diamonds v Altrincham, Blue Square Premier, Setanta Sports 1
The Diamonds will be going hell for leather tonight as a win will see them jump from tenth to third in the Blue Square Conference table. On current form that seems quite likely, so our money's going on Garry Hill's mob.
Tuesday 30 September
5.30pm Zenit v Real Madrid, Champions League (Group H), Sky Sports 2
ZSP picked up their first win in three at the weekend with a 3-0 away victory against Lokomtiv Moscow while Real still can't quite get back to the top of La Liga despite the continuation of their impressive run of form against Real Betis on Saturday. This should be another three points for Los Blancos, though, and about as different a prospect as you can get to their next CL match against Juventus next month.
7.30pm Arsenal v Porto, Champions League (Group G), ITV1 & HD
What a difference a game makes. Arsene Wenger suddenly has a mini-crisis on his hands following Hull City's competency at out tactic-ing his Arsenal side on Saturday. With Porto visiting the Emirates Stadium, the question has to be asked: will Wenger put out his strongest squad, or make do with the lesser talents of Van Persie, Adebayor and Walcott?
7.30pm Aalborg v Manchester United, Champions League (Group E), ITV4
Those Danes from Aalborg might allow themselves a moment's optimism as they cast a casual eye over the Premier League table. It's not every September that ends with Man United in the bottom half of the table, but they'll do well to observe the 'Goals Played' column. Fergie's lads have a game in hand and will no doubt be right back near the top of the pile before you can say 'contentious refereeing decision'.
7.30pm Villareal v Celtic, Champions League (Group E), Sky Sports 2 & HD2
Both these teams picked up unlikely victories in their weekend league games, Celtic leaving it late to find a winner in their 3-2 win over Aberdeen and Villareal scoring a single goal against the run of play to beat Sporting Gijon. Villareal, however, remain top of La Liga while Celtic still find themselves chasing the shadows of Rangers. Call us picky if you like, but we think Brer Strachan might be just a touch scratchy in the post-match interview after this one.
7.30pm Bayern Munich v Lyon, Champions League (Group F), Sky Sports Xtra & HD3
Would you Adam und Eve it? Bayern lose AGAIN, this time by a single goal away to Hannover 96, and are now ninth in the Bundesliga. What better way, then, to revitalise your season than to play a team that hasn't lost in any competition since March 4th. "Oh 'ell", Klinsmann may be saying, and understandably so...
('O.L.' - geddit?!?
Ahem...
)
7.45 Fiorentina v Steaua Bucharest, Champions League (Group F), Sky Sports Interactive
Fiorentina started off with a safe and satisfactory 2-2 draw against Lyon a fortnight ago, and that's set the tone for their distinctly vanilla season thus far. Steaua, meanwhile, lost 1-0 to Bayern Munich, thereby leaving them bereft of any crumb of credibility they might have had. Press the red button if your curiosity comes perversely to the fore.
7.45 Fenerbahce v Dynamo Kiev, Champions League (Group G), Sky Sports Interactive
One wonders if Luis Aragones has bitten off more than he can chew in taking on the Fenerbahce job following their third defeat of the season at the weekend. His side now lie tenth in the Turkish Super League, and a second successive Champions League defeat here might get the locals a little agitated. Ah - it says here Dynamo Kiev are eleven games unbeaten at the moment...
7.45 BATE v Juventus, Champions League (Group H), Sky Sports Interactive
Let's face it - BATE Borisov are too star-struck at the moment to be bothered with results. Probably just as well given their opponents tonight.
Wednesday 1 October
6.00pm Liverpool v PSV Eindhoven, Champions League (Group D), Sky Sports 2 & HD2
Twelve games unbeaten now for Rafa's Reds and apart from that worrying draw with Stoke recently, they look like an altogether different prospect from last season. A win over The Farmers looks highly likely, especially given the 3-0 mauling the Dutch team had at the hands of Atletico Madrid a fortnight ago.
7.30pm CFR 1907 Cluj v Chelsea, Champions League (Group A), Sky Sports Xtra & HD3
As we reported here a fortnight ago, Cluj head coach Ioan Andone was recently shown the door despite guiding his team to the Romanian league title and a place in the Champions League for the first time. So much for getting behind your man, eh?
What was even more baffling was the appointment of unknown Italian Maurizio Trombetta as Andone's replacement, but credit where it's due, he did pull off an unlikely victory away to Roma in their first Champions League game. We're really not sure what to make of this one, so we're just going to sit back and take it all in, as indeed you should.
7.45pm Bordeaux v Roma, Champions League (Group A), Sky Sports Interactive
Both teams lost their opening fixtures a fortnight ago and will be looking to make amends this evening. To spice things up a bit, Roma finally got their first Serie A win of the season yesterday, so watch out Bordeaux - you've now got a fight on your hands...
7.45 Famagusta v Panathinaikos, Champions League (Group B), Sky Sports Interactive
Pity the poor Sky Sports commentator who pulls the short straw for this one. A match of interest only to the Redbuttonistas amongst you.
7.45 Inter Milan v Werder Bremen, Champions League (Group B), Sky Sports Interactive
Jose Mourinho's men came off second best in the Milan derby at the weekend, losing 1-0 to their red-and-black-striped counterparts. Inter also had five of their men booked and two (Burdisso and Materazzi) saw red. Time, then, to take a deep breath, open the lungs and consider the scoring prowess of their German opponents who have bagged twelve in their last three games. Not an easy game for Mourinho, and one well worth watching if you get the chance.
7.45 Shakhtar Donetsk v Barcelona, Champions League (Group C), Sky Sports Interactive
Barcelona may be playing well at the moment and Thierry Henry got himself on the scoresheet in the 2-1 win over Espanyol on Saturday, but is it too little, too late for the former Arsenal man? Is he heading for the exit? Will he be the next superstar to find himself wearing a Man City shirt in the January transfer window? This game may (or may not) have the answer.
7.45 Sporting Lisbon v FC Basle, Champions League (Group C), Sky Sports Interactive
Sporting and Basle are enjoying a similar season so far. Both have started well, both have had a wobbly spell of late, both have recovered but both lost their weekend matches. Basle currently lead the Super League by a couple of points after ten games but lost on Saturday to Young Boys while Sporting lost the Lisbon derby to Benfica and are second in the league after four matches. Gotta favour the Portuguese team in this one, though.
7.45 Atletico Madrid v Marseille, Champions League (Group D), Sky Sports Interactive
Javier Aguirre is a man to be respected and admired. He has single-handedly managed to turn Florent Sinama-Pongolle and Diego Forlan into regular goalscorers this season and all without the aid of an expensive course of hypnotherapy. As for Marseille, they're still unbeaten in Ligue 1 after seven games, so this will either be a cracker of the highest proportions or a mutual cancelling out of two great footballing middleweights.
Thursday 2 October
3.00pm Wisla Krakow v Tottenham Hotspur, UEFA Cup, Five
Chances are you'll miss this one if you can't get home from work early, and if you're a Spurs fan, that'll be just fine. Juande Ramos finds himself with a mountain to climb as he re-enacts Martin Jol's darkest hours, but his team have a 2-1 lead from the first leg and will be looking for that all-important away goal to seal his passage (so to speak) through to the next round.
6.30pm Standard Liege v Everton, UEFA Cup, Five
Standard are flying high at the moment in the Jupiler League (which you can bet your life will appear in our League of the Week feature soon) and a repeat of their weekend victory over Anderlecht will see the end of Everton's European run this season. It was 2-2 when these teams met in the first leg, so realistically David Moyes' men have gotta go for a win tonight, unless they fancy their chances with a high-scoring draw. Unlikely, one has to assume.
7.00pm Manchester City v AC Omonia, UEFA Cup, ITV4
Here's how you play the away goals rule, Everton. Man City play hosts to the Cypriots having secured a 2-1 lead in the first leg, so if all goes to plan it'll be a case of 'score an early goal and shut up shop' for Mark Hughes men.
8.00pm Motherwell v AS Nancy, UEFA Cup, BBC1 One Scotland
1-0 down from the away leg, Motherwell find themselves with the daunting task of having to score at least two and stop the Nancy boys* from scoring themselves. They can do it, mind you, and we have every faith that Mark McGhee's men will do to Nancy what they did to St.Mirren at the weekend. (* Sorry.)
9.30pm Vitoria Guimaraes v Portsmouth, UEFA Cup, Five
Harry Redknapp's men have the same remit as Man City tonight - get an early goal and consider the game finished. Pompey won 2-0 at home in the first leg, so viewers of Five might be treated to an early night if Defoe or Crouch can bag one shortly after kick-off.
Friday 3 October
7.00pm Arminia Bielefeld v Karlsruhe, Bundesliga, Setanta Sports 1
Thirteenth plays Fourteenth tonight, and if that doesn't set the pulse racing, perhaps Bielefeld's recent unpredictable form will. Michael Frontzeck's team should have beaten Eintracht Frankfurt yesterday, but a late Benjamin Kohler goal saw the points shared.
Karlsruhe, on the other hand, made the wise decision to score
twice
before conceding a late goal at home to Wolfsburg and are now looking for a third consecutive victory in the Bundesliga. A win for either side tonight could result in a leap up to mid-table prior to next weekend's matches, and that's just about all the incentive you need (apart from the distinct possibility of overtaking Bayern). Watch with us and see which team "wants it more." (c) Jamie Redknapp.