Charity Begins At Bone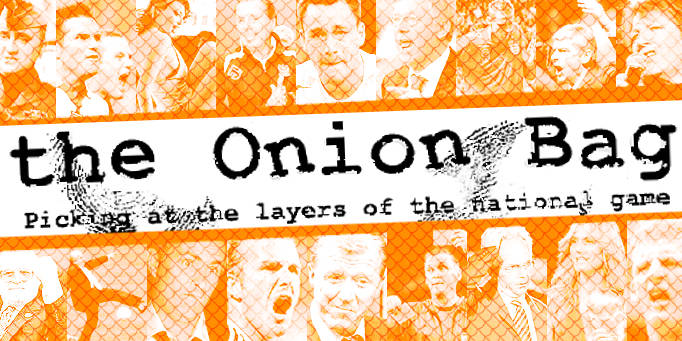 Clubs wear puppies as a mark of respect
Premier League teams up and down the country paid tribute to the canine world by wearing puppies on their shirts during this weekend's games.
Charities including the Dogs Trust and the RSPCA have commended those clubs that wore puppies to highlight the role dogs play in society. Rex Goodboy, spokesman for the Dog Welfare League, said "We applaud the teams and the skilful way they attached young dogs to their shirts. It can't have been easy for them, but we appreciate their endeavours nonetheless."
Breeding 'ell
Eighteen Premier League clubs selected dog breeds that had special significance to their managers. Manchester City chose Welsh Terrier puppies, Wolves went for Yorkshire Terriers while Hull City felt that Pointers were the best choice for them.
Attaching the puppies to the shirts is a perennial problem for the clubs involved and once again this year a variety of methods were used. Some were deemed inhumane, such as the use of pins and strong adhesive tape, and this has led the Premier League to suggest that puppies be stitched into the shirt fabric in years to come.
Party poopers
Two clubs, however,
decided not to wear puppies on their shirts
at all this year. Liverpool and Manchester United felt it inappropriate to endorse dog charities claiming they already support other worthy causes, adding "and anyway, the puppies tend to piss and shit all over the shirts during the course of a game which the players aren't pleased about."
The attachment of dogs to team shirts is seen by some as an unnecessary hindrance on players during matches, while others recognise the ability of some breeds to assist in the scoring of goals. Among those getting their names on the scoresheet this weekend were Spot, scorer of a hat-trick against Wigan, Shep, whose penalty against Birmingham City was almost saved by Jess in the Aston Villa goal, and Rover, who rolled over and died for the Queen as part of his goal celebration in the match against Tottenham http://www.yes-ido.co.uk.
Giggs - now with marrowbone jelly
In other news, Ryan Giggs was named favourite to win 'Best of Show' in next year's Crufts at the Birmingham NEC.