The Friday List of Little or No Consequence #23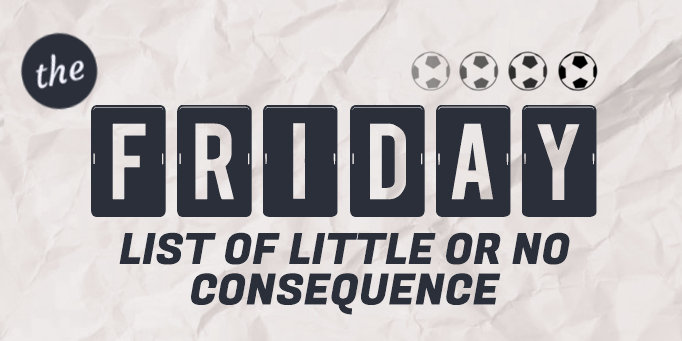 Leave this to me, lads...
13 Goalkeepers That Have Scored From Open Play
1. Luis Martinez (Colombia) v Poland, 2006
2. Paul Robinson (Tottenham Hotspur) v Watford, 2007
3. Mark Crossley (Sheffield Wednesday) v Southampton, 2006
4. Peter Keen (Carlisle United) v Blackpool, 2000
5. Mart Poom (Sunderland) v Derby County, 2003
6. Pat Jennings (Tottenham Hotspur) v Manchester United, 1967
7. Brad Friedel (Blackburn Rovers) v Charlton Athletic, 2004
8. Peter Scmeichel (Manchester United) v Rotor Volgograd, 1996
9. Carlos Bossio (Estudiantes) v Racing Club, 1996
10. Steve Sherwood (Watford) v Coventry City, 1984
11. Steve Ogrizovic (Coventry City) v Sheffield Wednesday, 1986
12. Jimmy Glass (Carlisle United) v Plymouth Argyle, 1999
13. Peter Shilton (Leicester City) v Southampton, 1967
Has your team's goalkeeper scored from open play? Do you know of another that put the ball in the net (apart from in a penalty situation)? Leave us a comment and let us know!