The Friday List of Little or No Consequence #91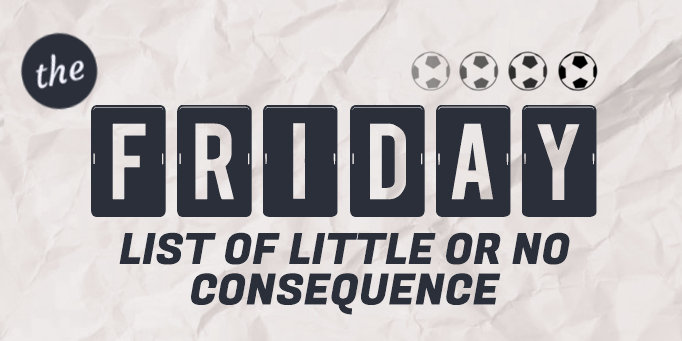 My cup runneth over...
13 International Cup Competitions That Are No Longer Played For
1. Balkan Cup
Played between 1929 and 1980 and won by (amongst others) Yugoslavia, Romania and Bulgaria.
2. Afro-Asian Club Cup
Ran from 1986 to 1998 involving the champion clubs in Africa and Asia. Winners included Al Ahly (Egypt), Daewoo Royals (South Korea) and, curiously, Thai Farmers Bank FC (Thailand).
3. Tournament of Paris
Friendly club competition that ran annually from 1957 to 1993. Typically involved two French teams and two from abroad. Often won by Paris Saint-Germain - other winners include Fluminense (Brazil), Valencia and, er... Romania.
4. Copa Iberoamericana
Club competition held just once in 1994 between the Cup winners of Spain and South America - Real Madrid and Boca Juniors. Real won 4-3 on aggregate and the matter was never spoken of again.
5. Blaxnit Cup
Club competition that ran from 1967 to 1974 involving four teams from either side of the Irish border. Winners include Coleraine, Shamrock Rovers and Linfield.
6. World of Soccer Cup
One-off contrived nonsense played in Australia and Singapore during the summer of 1977. Competition was split into two sub-competitions played in both host countries. Aside from Australian and Singapore, Arsenal, Red Star Belgrade and Celtic also took part, of which the latter won outright.
7. Mitropa Cup
A sort of European Cup for Central European teams, if you will. Lasted from 1927 to 1992 and involved clubs representing the likes of Austria, Hungary, Italy and Czechoslovakia, amongst others. First winners: Sparta Prague; Last winners: Borac Banja Luka (Yugoslavia); Most frequent winners: Vasas (Hungary).
8. Copa Interamericana
Competition to establish the best club from CONMEBOL (South America) and CONCACAF (North and Central America). Ran on and off from 1968 to 1998 and was usually won by South American teams. Only Club America, UNAM Pumas (both Mexico) and DC United (USA) broke the trend in four of the competition's eighteen outings.
9. Latin Cup
Lasting from 1949 to 1957, the Latin Cup took the league-winning clubs from France, Spain, Italy and Portugal and aimed to find a Champion of Champions. Winners included Real Madrid, AC Milan and Benfica.
10. West African Nations Cup
Regional sub-division of the African Nations Cup held between 1982 and 1987. Won every year by Ghana despite the efforts of other competing countries such as Nigeria, Liberia, Togo and the Ivory Coast.
11. ECO Cup
Member states of the
Economic Cooperation Organisation
competed in this largely irrelevant tournament on six occasions between 1965 and 1993. A rare opportunity for the lesser lights of Western Asia to grab some glory, the most successful of which were Turkey and Iran - the least successful of which included Turkmenistan, Pakistan and Azerbaijan.
12. Trans-Tasman Cup
Occasional bully-off between Australia and New Zealand, held on six occasions between 1983 and 1995. Usually a two-legged challenge match, a single-leg version took place in 2005 as a schools competition.
13. Melanesia Cup
Tournament to find the best Melanesian football-playing country, of course. It ran from 1988 to 2000, usually on an annual or biennial basis, and was won by Fiji, Papua New Guinea, the Solomon Islands and Vanuatu.
Wouldn't it be great if you had the power to invent a totally meaningless and uncalled-for cup competition? If you had the power, what competition would you create, what would you call it and who would it involve? Leave us a comment and spill the beans...