The Friday List of Little or No Consequence #92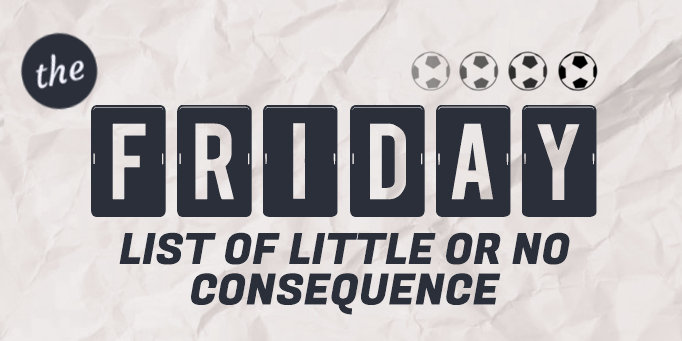 Oo-er - sounds a bit rude...
12 Football Players With Names That Send A Chill Of Fear Into Every Football Commentator
1. Rod Fanni (Stade Rennais and France)
2. Joaquim Manuel Sampaio da Silva a.k.a. 'Quim' (Benfica and Portugal)
3. Stefan Kuntz (Kaiserslautern and Germany)
4. Johan de Kock (Utrecht and Netherlands)
5. Francisco Arce (Palmeiras and Paraguay)
6. Julian Dicks (West Ham)
7. Danny Shittu (QPR and Nigeria)
8. Nwankwo Kanu (Arsenal and Nigeria)
9. Christophe Cocard (Auxerre and France)
10. Gottfried Fuchs (Kalrsruher and Germany)
11. George Koch (Rapid Vienna)
12. Ralf Minge (Dynamo Dresden and East Germany)
Know any more? If so, leave us a comment and tell us - because we're immature and puerile, nothing more, nothing less.