Press red to fix Clive's wagon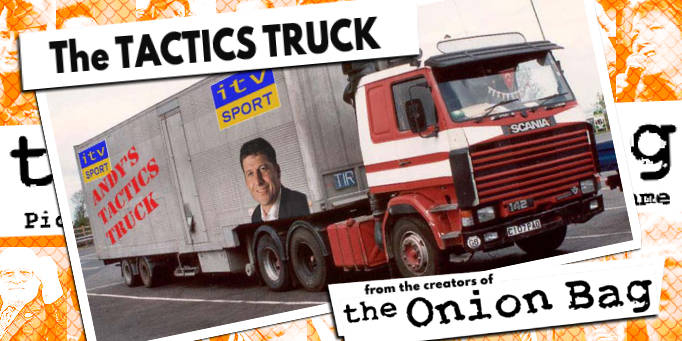 There are only a few scarce minutes left on the clock at Anfield last Tuesday. ITV are replaying Ryan Babel's goal that seals Liverpool's passage to the Champions League semi-final at Arsenal's expense. Expert summariser Jim Beglin suggests that the Red's fourth goal renders their controversial third goal less controversial. In short, it doesn't matter if the penalty was dodgy because Liverpool would have won anyway.
This, of course, comletely ignores the fact that had Liverpool not scored their second goal, Arsenal would not have been haring up the other end of the pitch desperately trying to score themselves. Babel's goal was a classic counter-attacking strike scored against a team who were all occupying the Liverpool half. Everyone watching must have seen goals scored in that way many times over, including Beglin. So for him to say such a thing was, insensitive at best and down-right oafish at worst.
I texted my Arsenal supporting chum and remarked on Beglin's broadcasting skills in a way that would invite litigation were it to be published. My crestfallen friend texted back stating that he'd switched the sound of at half time because he'd had enough of listening to the commentators (Beglin and ITV senior pro Clive Tyldesley). In his view the entire presentation, including the commentary was biased toward Liverpool.
The qualities of English football commentators are always difficult to erm... commentate on because it is so hard to be subjective. Almost every commentator will have, at some point, been accused of bias towards and against pretty much every football team that's ever appeared on telly. In many cases this is bollocks. I recently spoke to some Everton supporters who were furious that Channel 5 had engaged ex-Liverpool legend John Barnes to summarize the Toffee's UEFA Cup coverage on that channel. As a Red, he would be biased in favour of Karkhiv, Larissa, Brann, Alkmaar and Nurnberg respectively. This was of course complete rubbish. Barnes showed no signs of anti-Everton sentiment and was bad as he usually is. In my opinion, supporters judge pundits and commentators by their own one-eyed standards and can't get their heads around the idea that these people can act in a measured and professional way. Last night though, I am forced to conclude, was different.
Tyldesley is a committed citizen of Granadaland with his roots steeped in North West football. Beglin is a scouser with an Irish accent. If Liverpool were playing a team from the continent, such a line up would have made sense given the predominantly Liverpool inclined audience. But for a game against another English team it hardly seems fair. In fact you'd have thought by the overall coverage that this was a match between an English side and one from the continent.
ITV will, no doubt, defend the coverage. They will respond to their many complaints from Arsenal supporters watching the game Tyldesley and Beglin were professional and balanced. "There is no such thing as a perfect commentator" they'll probably say and in that respect, they would be right. However, the tone of Tyldesley's commentary was nauseating. His shrill goal celebrations when Babel scored the clinching goal were in stark contrast to his more measured and admiring tone when Arsenal travelled to Milan. ITV may also argue that he is their senior professional and it was only right that he commentate on this game. In that respect they are definitely right.
Another argument may be to let them be biased. Football's an emotional game, commentators are entitled to support their own team so let them. As offensive as it may come across, biased commentary has no bearing on the result and cannot truly be described as discriminatory.
Nevertheless, I can imagine it's still pretty irksome (I wouldn't know my team are too crap to be on telly that much) and ideally commentators should be disciplined enough to rein in their emotions in such circumstances. Alternatively, there may be a solution thanks to the red button. It already happened in the Rugby Union Six Nations where digital TV viewers could select commentary from the BBC regions. For example during the England v Wales match you had a choice between Butler & Moore or BBC Wales' commentary. Some may ask what sort of choice that is but you get the idea.
Surely it is not beyond the wit of a broadcaster, or the clubs themselves, to offer alternative commentaries skewed toward each club via the interactive TV. If this service had been available last Tuesday, Clive Tyldesley could have happily spunked all over his FX mic when Stephen Gerrard scored and Gooners could have listened to a pro-Arsenal commentator seething with the injustice of it all. Neutrals could have listened to some light music.