they think it's all over...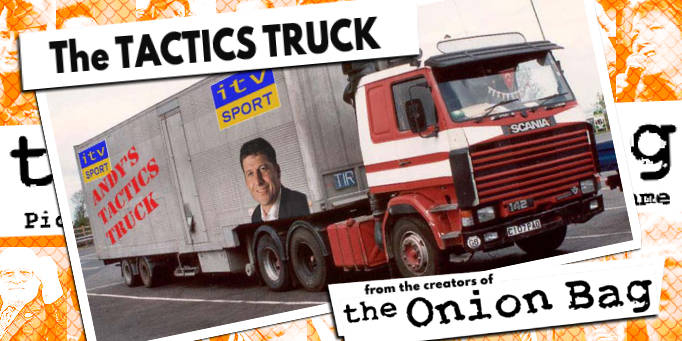 We are not ones for bold self important announcements. Actually that's a complete lie we're always blowing our our trumpet about how great we think we are. To that end we have to inform you of yet another momentous event in The Onion Bag's tumultuous, mind swirling history. From today, the Bag's blogging wing will join Chris Oakley's top football blog
Some People On The Pitch
.
All it really means is that stuff we write for the Tactics Truck will now be published on SPOTP. For the time being the Bundesbag will continue but at the end of the season that will be shut down and the weekly review of the Bundesliga will appear on SPAOTP from next season.
Larry Gak
is unaffected.
"It was a tough decision to ditch the Tactics Truck" said Onion Bag editor Duffman "But when Chris has you in a full nelson, there is really no other choice to make... if you want to keep are arms intact that is."
Oakley himself was delighted with the move "This is great day for
Some People Are On The Pitch
. This alliance will tighten my grip on the puny blogosphere. Soon, every football blog will be yellow and red. You are next 200percent."
For those of you concerned that this will result in some sort of unholy alliance of corporate doom and that our tiny corner of the Blogosphere is in crisis, we would refer you to this
short film
.