Renaissance Man United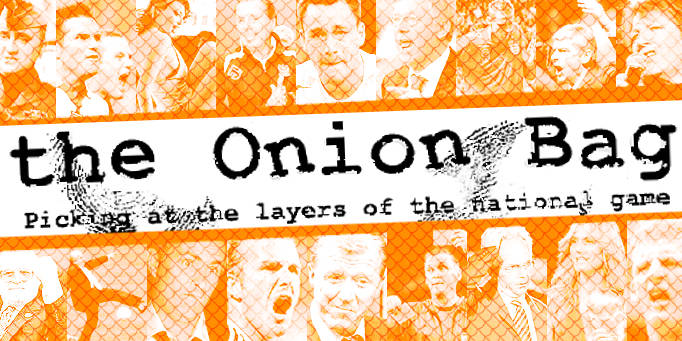 English football now the greatest thing in the history of humanity, say culture experts
English football's stellar two weeks in the last-16 of the European Champions' League — completed when Liverpool thrashed Internazionale 1-0 last Tuesday - has elevated the English game's cultural import to "higher than that of the Renaissance". That's the view of The Onion Bag's lofty art critic, Leopold Panther.
Carthaginian Empire
"The enlightenment that stemmed from Florentine, Venetian and Roman humanism, art and scientific discovery is no match for the sweaty, desperate and largely illiterate performances of these modern-day da Vincis," Panther told our intrepid reporter Larry Gak, as the two men propped up the bar at an epically exclusive London club. "And Clive Tyldesley agrees with me," he added, "so I'm not just talking out my arse."
Hackney Empire
A barely-perfunctory look at the history books seems to back up this seemingly outrageous claim. Looking back to further to classical times, we found that neither the Greeks nor the Romans can boast the longevity, scope or blanket of almost-success of our largely-foreign English footballing messiahs. As if to demonstrate this victory over the ages, the last remaining Greek team - Piraean giants Olympiacos - were dispatched from the competition by none other than Chelsea, the modern-day Eden.
Hammersmith Odeon
The four English clubs now look towards the quarter-finals and confidence is high. Their innate superiority, the lack of fixture congestion (following their clever tactical decisions to all be humiliatingly knocked out of the FA Cup, usually by Barnsley) and the fact that we're too lazy to bother finding out if the other lot are any good will surely be enough to see them all cruising into April's semi-finals - even though two of them are drawn against each other. "Knockout football has had its day," argued Panther. "What people are truly interested in now is the game as an art form. To that end I led a delegation of aesthetes to UEFA just last week to propose that the matches in the last-eight be scored on Artistic Merit - like figure skating — rather than on the outmoded, lumpen, socialist principle of who wins."
Max's Kansas City
English football's brilliance is set to be rewarded in next season's competition, with 16 entries to the Champions' League likely to be granted, as well as a crown for Sir Trevor Brooking. English football's coronation as The Most Significant Thing Of All Time will come at the end of May in Moscow's Luzhniki Stadium. There the mighty English game will once again demonstrate its capability of getting three teams to the semi-finals of a European Cup competition, and still come away without the trophy. Following the runners-up medal ceremony, our four clubs' 6 English players are to be awarded a further bonus for their efforts. Whilst their nearly-vanquished foreign inferiors are forced to compete in Euro 2008, they are to be given the summer off.